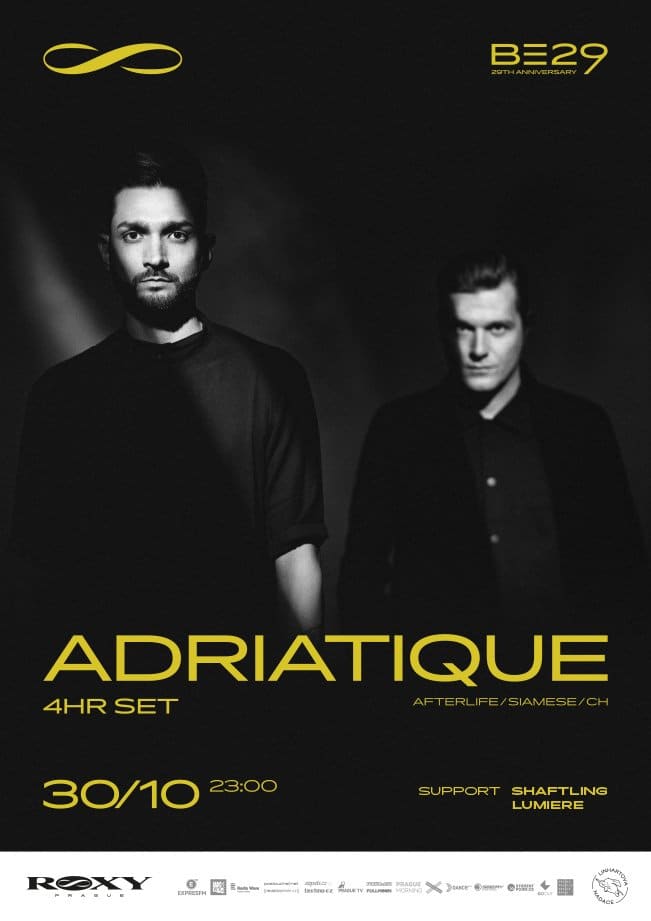 BE29: Adriatique (CH) @ROXY

Buy Passes
Populární housová dvojka Adriatique vystoupí v čtyřhodinovém setu v rámci letošních narozeninových oslav!
Nový termín!
Support: Shaftling, Lumiere
Vstupenky/Tickets: 420 czk + popl/fees | NoD 430 czk
video: Adriatique @ Signal 2108 Alpe d'Huez for Cercle
BE29 – ROXY celebrates its 29th birthday, which annually comes with a top-quality party! One of the biggest cakes on the table is served by the long-awaited Adriatique. Swiss duo Adrian Shala and Adrian Schweizer have been in the game for over 10 years. During this time, they managed to earn the reputation of creative, powerful, and inseparable pair – proved by the name of their own label, Siamese. They're also known for labels Diynamic and Afterlife, which used to host their releases in the past. Coming back to ROXY on 30th October!