Day Light Paolo Mojo Eden Terrace
Paolo Mojo, Louis Dee, Luis Ponce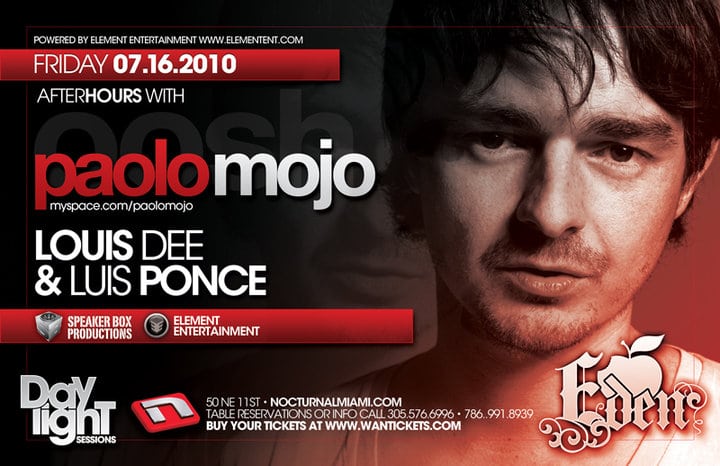 Day Light Paolo Mojo Eden Terrace at Nocturnal
Day Light Paolo Mojo Eden Terrace with Louis Dee and Luis Ponce is an after-hours house music event following Andy Moor.
Eden Terrace @Nocturnal Nightclub
50 NE 11th Street
Miami, FL 33132
Friday, July 16, 2010
11:00 PM to 11:00 AM
21+
PERFORMING ARTIST: PAOLO MOJO
Paolo Mojo is firmly established as a leading light on the underground house music scene with a large global following and a consistent production schedule that keeps him in demand all over the world.
PERFORMING ARTIST: LOUIS DEE
For the past 14 years, Louis Dee has proven that he is by far the single most sought-after local DJ on South Beach. Having established his name at the infamous Monday night party at Tantra, Louis would later go on to be the man behind the deck at venues such as Mokai, Pink Room, Bamboo and of course SET.
PERFORMING ARTIST: LUIS PONCE
Born in Cuba, raised in Miami with the World in his sights. Both inventive and innovative, Lu.Pons music continues to define musical trends.