Pryda Friends Tour:
Jeremy Olander, Fehrplay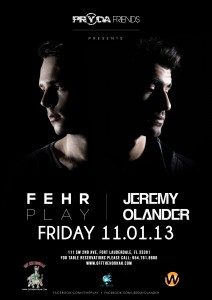 Pryda Friends Tour
Beginning the run at Create in Hollywood, fast-rising DJ-producers Jeremy Olander and Fehrplay will head out in August on a Pryda Friends tour around America. The two young protégés of Eric Prydz are in-step sonically with their label boss, and they're set to play a mix of back-to-back and standalone sets in L.A., Miami, Orlando, Chicago, San Francisco, Fort Lauderdale, and Washington D.C.
So, where have you heard these two? Stepping up to the Essential Mix earlier this year, Prydz featured a suite of contributions from Olander, including the send-off, Let Me Feel. Meanwhile, under his heads-down techno moniker Dhillon, Olander has appeared on Adam Beyer's Drumcode flagship. Meanwhile, Fehrplay is a consistent presence on Pryda Friends, with a new weapon coming at the end of the month. He's on a hot streak this year, having already delivered the Prydz-approved anthem Phantom.
The Pryda Friends road-trip follows a strong showing from the main man in recent months. From closing the Sahara structure on both weekends of Coachella to his Black Dice residency in Las Vegas ("we blacken out the whole club, put the lights down, and make it all about the music," he told inthemix), Prydz is in his element right now. As ever, his label looks to be a hive of activity in the second half of 2013.
Off The Hookah
111 SW 2nd Avenue
Fort Lauderdale, FL 33301
Friday, November 1, 2013
10:00 PM to 4:00 AM
21+
PERFORMING ARTIST: JEREMY OLANDER
Since bursting onto the scene in 2011, DJ, producer, and label owner Jeremy Olander has been described as the savior of the true progressive style once made famous by Sasha and John Digweed.
PERFORMING ARTIST: FEHRPLAY
What do Billboard and the sleepless city of New York hold in common? For one, they have all bowed to the uplifting talents of Norwegian breakout Fehrplay. With his name cemented to the lifeblood of progressive house and the global club circuit adding to his 360-degree explosion, 2013 has set the young European trailblazer into one of his most prolific streaks to date.