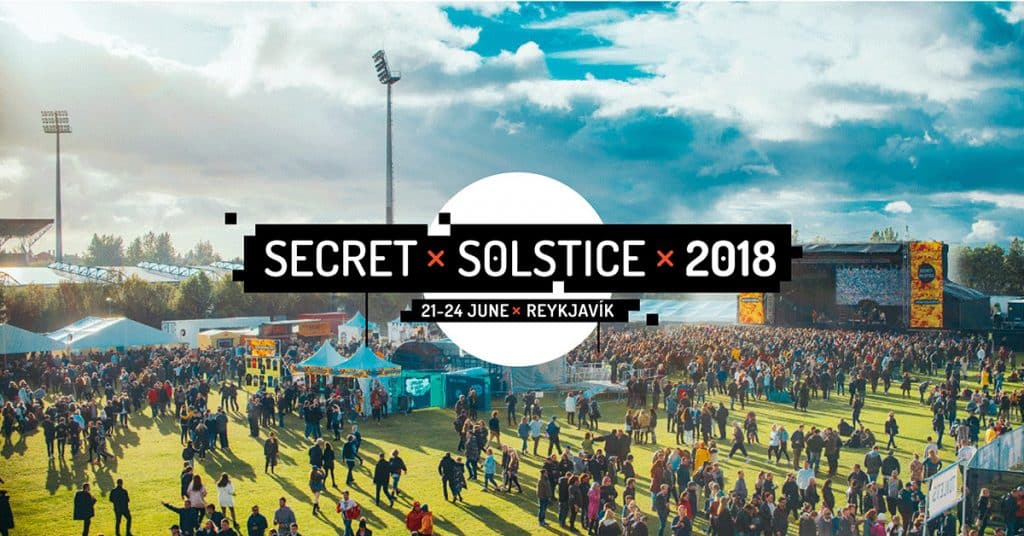 Iceland Secret Solstice 2018
Iceland Secret Solstice 2018
Iceland Secret Solstice 2018 from June 21 – 24 is the bucket-list music festival held during 96 hours of straight sunlight in Reykjavik. The signature Side Events, Into The Glacier and The Lava Tunnel return for their fifth edition with tickets went on sale Thursday, December 7, 2017, at 7 am ET / 4 am PT. Combining a world-class music festival with the many natural attractions that the land of fire and ice has to offer, Secret Solstice will once again prove why it has earned the title of the world's "unique festival" thanks to their spectacular event experiences you can't find anywhere else.
The New York Times described Iceland as one of,
20 Places To Travel In Your 20s.
Wonders of Nature
There are many reasons that Iceland is a popular destination for tourists eager to experience the country's otherworldly landscape of glaciers and volcanic deserts. Recently nominated by The European Festival Awards, the carbon-neutral festival attracts visitors from across the globe keen to dance in the rays of the never-setting midnight sun to a world-class and diverse musical lineup while experiencing many of the country's extraordinary environmental attractions. Just outside Reykjavik, visitors can discover supernatural landscapes boasting beautiful waterfalls, icy glaciers, black sand beaches, and vast volcanic fields as well as world-famous sites like the Blue Lagoon and Game of Thrones filming locations. More accessible than ever from major U.S. cities, it's not hard to see why Reykjavik is the second most popular destination by travel search engine Kayak.
The Side Events utilize Iceland's stunning natural settings and spaces and cater to both music and nature lovers, offering once in a lifetime, jaw-dropping experiences. While stepping inside Europe's second largest glacier Langjökull or journeying deep into a 5,200-year-old Lava Tunnel, those lucky enough to snap up one of the highly prized tickets will be treated to intimate and exclusive performances from Icelandic and international artists. For thousands of years what lay beneath the surface of the Langjökull glacier was considered a mystery and it was only recently that humans were able to see the spectacular blue ice buried 130 feet beneath the surface. Equally as breathtaking, the journey into the magnificent lava caves at Raufarhólshellir is a chance to witness what happens underground during a volcanic eruption which results in natural ice sculptures and stalactites in connecting lava tubes that form natural subterranean arteries. With extremely limited tickets available for 'Into The Glacier' on Saturday, June 23 and The Lava Tunnel taking place on Saturday, June 23 and Sunday, June 24, these events are sure to sell out.
Billboard magazine exclaimed,
Secret Solstice is shaping up to be one of the standout international events on the summer calendar.
Artists at past editions of Secret Solstice have included the likes of Anderson .Paak, Big Sean, Chaka Khan, Die Antwoord, Dubfire, Foo Fighters, Kerri Chandler, Jamie Jones, Of Monsters and Men, Radiohead, Rick Ross, The Black Madonna, The Prodigy, Wu-Tang Clan, and many more top international and local Icelandic acts.
Phase 2 Announced February 20, 2018
Following on from their recent phase 1 announcement, Iceland's Secret Solstice is pleased to announce its second wave of artists. The added artists include the iconic metal band Slayer. Slayer is on its Final World Tour. Rapper Gucci Mane and electro-pop group Clean Bandit also announced. All three acts are playing in Iceland for the first time.
Two-time GRAMMY winners Slayer are long-reigning titans of punk-thrash who alongside bands like Metallica helped define the thrash-metal genre throughout their 34-year career. Touching down in Iceland as part of their Final World Tour fresh off their North American dates, this is a rare last opportunity to catch the legendary band.
American rapper, label owner, and Billboard chart-topper Gucci Mane who's lucrative career is soon to be the subject of a Paramount biopic, credited as pioneering the hip-hop sub-genre known as trap music. The god of trap will no doubt bring his colorful beats to the Secret Solstice main stage.
British genre crossover group Clean Bandit best known for their hit single "Rather Be," seamlessly blend classical music with pop bringing together strings, piano, percussion, vocals and electronic beats. Their refreshing take on modern pop music and reputation for incredible live shows will be sure to captivate Secret Solstice festival goers this June.
These three artists add to the diverse list of headline artists previously announced including Stormzy, Bonnie Tyler, Death From Above, Steve Aoki, Jet Black Joe, GRAMMY nominees 6lack and Goldink, J Hus, Charlotte de Witte, Skream, A-Trak, Masego, IAMDBB, Högni and Gentleman's Dub Club.
Also announced are 13 local artists. Several Icelandic hip-hop and rap acts such as bubblegum trap queen Alvia, Cell7, Elli Grill, Geisha Cartel, Landaboi$, Ragga Hólm, Sprite Zero Klan, Vala CruNk, and Yung Nigo Drippin alongside pop talent Birgir and GDRN, rock group HAM, and semi-acoustic band Vio.
Tickets and Information
Tickets to Into The Glacier on June 23, 2018, are still USD 318.
Tickets to The Lava Tunnel on June 23 and June 24, 2018, are still USD 236.
Full tour packages including flights, tickets, and accommodation with Iceland's top services including hotels, rentals, and airport transfers will also be available for the 2018 edition. You can purchase your tickets via the Secret Solstice website.
The Secret Solstice Lineup
(* indicates Phase 3 Artists)
Slayer [US]
Stormzy [UK]
Gucci Mane [US]
Clean Bandit [UK]
Bonnie Tyler [UK]
Death From Above [CA]
Aoki [US]
*George Clinton & Parliament Funkadelic [US]
Jet Black Joe [IS]
lack [US]
GoldLink [US]
J Hus [UK]
Charlotte de Witte [BE]
Skream [UK]
*Kollektiv Turmstrasse [DE]
A-Trak [US]
Masego [US]
IAMDDB [UK]
Högni [IS]
*GusGus (DJ) [IS]
Gentleman's Dub Club [UK]
Agent Fresco [IS]
*Ali Love [UK]
Alvia [IS]
*Andrea Jóns [IS]
*Aron Can [IS]
Artwork [UK]
Ása [IS]
Bensol [IS]
Between Mountains [IS]
Birgir [IS]
*Birgir Hákon [IS]
*Birnir [IS]
Captain Syrup [IS]
*Carla Rosemary [IS]
*CasaNova [IS]
Casio Fatso [IS]
Cell7 [IS]
*Cosmic Bullshit [IS]
*DJ Frímann [IS]
*DJ Karítas [IS]
Dream Wife [UK/IS]
Droog [US]
Earthgang [US]
Egyptian Lover [US]
Elli Grill [IS]
*Ern [US]
*Fever Dream [IS]
*Flóni [IS]
*For A Minor Reflection [IS]
Fox Train Safari [IS]
GDRN [IS]
Geisha Cartel [IS]
*Gísli Pálmi [IS]
GKR [IS]
*Godchilla [IS]
Grúska Babúska [IS]
HAM [IS]
*Helgi B X Igna [IS]
Hildur [IS]
Holmar [IS]
*Huginn [IS]
*Indigo Theory [HU]
J.I.D [US]
*J.Phlip [US]
JFDR [IS]
*Joey Christ [IS]
John Acquaviva [CA]
Johnny And The Rest [IS]
Jóipé x Króli [IS]
Kilo [IS]
Klose One [UK]
KrBear [IS]
Landaboi$ [IS]
*Logi Pedro [IS]
Maher Daniel [CA]
*MARBS (Desert Hearts) [US]
*Marco Faraone [IT]
Matt Tolfrey [UK]
*Mighty Bear [IS]
*Mike The Jacket [IS]
*Mushy [UK]
Nitin [CA]
Petre Inspirescu [RO]
Pink Street Boys [IS]
Ragga Hólm [IS]
Raresh [RO]
The Retro Mutants [IS]
*Reykjavíkurdætur [IS]
Rhadoo [RO]
Ryan Crosson [US]
Rythmatik [IS]
Shaun Reeves [US]
*Skaði [IS]
The Million Dollar Ticket
Presenting once again the world's most expensive festival ticket retailing at USD 1 million with all new uber luxurious perks. From private jet travel to extravagant Icelandic dinners and luxury sightseeing to private parties with headline artists, this is without a doubt the most exclusive festival pass ever offered on the planet.
With just one golden ticket up for grabs, the princely priced pass gets roundtrip pick up via privately chartered business jet for six people, as well as luxury accommodation for the entire festival week including an exclusive private party with a Secret Solstice headline artist. Other standout benefits include daily pampering with luxury spa access with your personalized glam squad. Dine with prominent Icelandic chefs in unique Icelandic locations. Chartered helicopter tour over the stunning landscape of southern Iceland across volcanoes and glaciers. Catered World Cup viewing parties. 24/7 access to personal drivers. Sledding across the world famous Langjökull glacier and horseback riding. Complimentary gear from 66North, and all the usual VIP perks like priority festival and backstage access, an on-site fully-stocked private lounge, and plenty more.
For those who's pockets aren't quite as deep as $1 million dollars, Secret Solstice also offers two other more affordable in comparison luxury ticket tiers, Package of the Gods for $14800 and Oðinn for $1865. What's included? For Oðinn, purchasers enjoy perks like entry to the new Oðinn pop-up lounge, complimentary food and drinks at the festival, side event discounts and more. With only three Package of the Gods passes available, the festival ticket is perfect for fans wanting to enjoy their favorite artists in style. Encompassing everything offered to Oðinn members, the pass also includes helicopter transfers to glaciers and lava tunnels, complimentary access to all side party events, luxury accommodation for two, private Icelandic dining experience and more. While not quite in the same league as the seven-digit $1 million ticket, it's a perfect option for those wanting to splurge.
For $1 million ticket inquiries, please send an expression of interest to [email protected]
With more unique experiences still yet to be announced, THE FULL $1 MILLION TICKET PACKAGE includes the following:
Fly round trip to Iceland in a privately chartered business jet (Gulfstream G300 or similar) for six people from any destination on Earth
Luxury accommodation for the Secret Solstice 2018 festival week
Welcome Villa party with unlimited champagne and Icelandic delicacies prepared by a private chef
Party with an international music artist at an exclusive private concert party for you and your select guests
An exclusive mini 66North hotel pop-up so you can have the VIP personal shopping experience from the comfort of your room with an outfit from 66Nort h
Private glam squad to provide personal hair, makeup and grooming every day
Premium luggage set, so you travel to the festival in style
Icelandic skincare treatments on-site at the festival every day
Access to spa treatments throughout your stay
24/7 access to two deluxe cars, personal drivers, and private escort for the entire week in Iceland
Daily relaxation massages for you and your guests
Catered private World Cup viewing party with prominent Icelandic chef for any game of your choice for you and your friends
Private helicopter tour over the glaciers and volcanoes of South Iceland
Special Secret Solstice summer picnic and a night at a luxury hotel in the lush ambiance of the Icelandic countryside
VIP midnight sun yacht party for you and your friends with a rtists on the lineup
Premium treatment, backstage access and priority fast-track access during the festival
Boutique festival tent on-site fully stocked and serviced including wi-fi, electricity and a complimentary weather pack to enjoy the festival in complete comfort
Lavish Icelandic gift hamper on arrival on-site at Secret Solstice 2018
All food and drinks served at Secret Solstice, including hyper-premium beverages and exquisite bespoke cocktails
All you can eat Icelandic hot dogs at Bæjarins Beztu Pylsur, "a world-famous hot dog stand."
Journey across the Langjökull glacier by snowmobile and sledding
Capture your glacial experience with a well-known Icelandic photographer
Explore the natural geothermal hot springs
Private dinner + chef's table at Iceland's top exclusive restaurant s specializing in Icelandic cuisine
Private yacht safari among floating icebergs
Private horseback riding session with purebred Icelandic Horses
Sensory dining experience by candlelight inside a cave
Access to all sold out Secret Solstice side event music experiences including Into The Glacier and The Lava Tunnel
Plus more specialty services to be released for our 1 million dollar guest