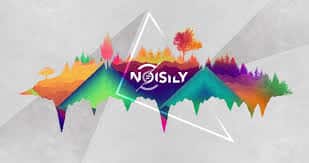 Noisily Festival 2018
Noisily Festival 2018
Ethos and Vibe
Noisily doesn't take itself too seriously, and neither do the 4,000 people who descend on The Coney Woods each July. It's and pure fun in all its forms. Noisily is an alternative to mainstream festival culture. It is an inclusive haven where underground music thrives and self-expression flourishes.
While rooted in the electronic music scene, Noisily is a holistic environment which feeds the mind, body, and soul. It's a celebration of psychedelic culture in a society which is increasingly looking inward for happiness and fulfillment.
Music
When it comes to music Noisily likes to keep it underground. Which isn't to say you won't find some industry legends on the lineup, the kind who've shaped the sounds of entire genres such as LTJ Bukem, Congo Natty and System 7.
There is no such thing as VIP at Noisily. Well, there is, but it stands for Very Important People and includes everyone at the festival.
Across the three main stages, two satellite stages, and a collection of hidden venues throughout the woods, you can experience the entire spectrum of electronic music. Outside of the woods in our Mind Body Soul healing area there are even some acoustic and live performances as well.
Noisily Stage
The Noisily Stage, flagship of the festival, gives equal standing to Techno and House legends alongside a host of up and coming artists from around the world. Epic laser shows, laser cut pyramids and geometric triangles surround the dance floor, while quadraphonic sound encompasses the blissed up ravers.
Liquid Stage
The Liquid Stage is the undisputed UK Psy Trance Mecca. Psychedelic artists from far-flung corners of the planet come together each July, playing to a crowded dance floor from 11 am to at 4 am daily. The beautiful CNC frontage carved by long-term Noisily artistes Daz and Charlie grows every year, as the evolution of the hallowed floor continues.
Purveyors of The Gallop since Liquid joined us in 2014 have included Tristan, Human Element, Zen Mechanics, Lucas, Emok, Phaxe, Morten Granau, Laughing Buddha, Beardy, Avalon, Earthling, Ajja, Dick Trevor, Burn in Noise, 4D, Atmos, E.V.P., Grouch, Regan, Merkaba, Parasense, Loud, Outsiders, Sonic Species, JOOF & Bumbling Loons.
Treehouse Stage
The Treehouse Stage kicked off in 2017 like never before. A redesigned stage frontage, epic lighting show, and a mandatory 1m diameter disco ball. The diverse line-up could win an award for 'Diversity in Bass Music,' if there were such a thing.
The Treehouse is the oldest structure at the festival, erected in early 2012. It has seen more action than Hugh Hefner (R.I.P). Historic Beatsmiths include Congo Natty, Beardyman, MC Xander, Grouch in Dub, Specimen A, Atomic Drop, Gaudi, LTJ Bukem, Koan Sound, Audio and The Prototypes.
Tickets are still available, and there will be announcements shortly of additional talent.