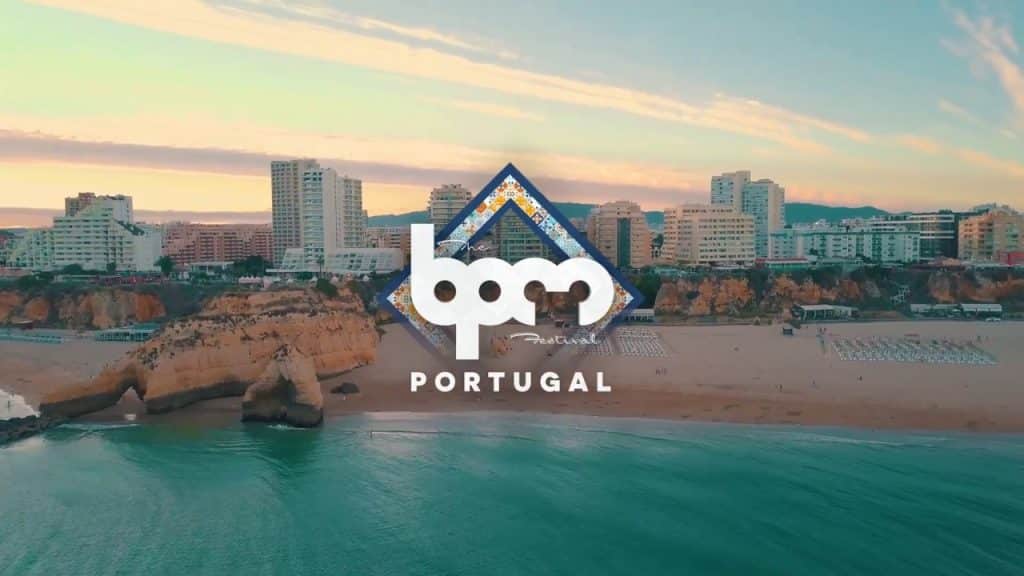 BPM Festival Portugal 2018
BPM Festival Portugal 2018
BPM Festival Portugal 2018 returns to the stunning southern Algarve coastal municipalities of Portimao and Lagoa. The dates are September 20 to 23. Last year's inaugural event saw over 180 of the world's top DJs and most significant up and comers in underground dance music. Registration is now open for Super Early-Bird Festival Passes via The BPM Festival website.
The 2017 debut Portugal edition hosted fans from over ninety countries. They partied at seven distinct venues alongside the beach and city centers for four days and nights with no sleep and little rest. Prominent record label showcases included All Day I Dream, elrow, Paradise, Stereo Productions, Warung, Vatos Locos, and The BPM Festival's signature all-star events, YA'AH MUUL and This Is The End. The festival defended its global reputation as the preeminent festival for lovers of quality house and techno.
True believers and newcomers made the pilgrimage to the southern Algarve region in 2017. They enjoyed the music of top house and techno artists as Apollonia, Carl Craig, Danny Tenaglia, Dubfire, Ida Engberg, Jamie Jones, Lee Burridge, Loco Dice, Nastia, Richie Hawtin, Seth Troxler, and many more. The BPM Festival Portugal 2018 will once again be the perfect way to celebrate the end of the European summer festival season.
Highlighting the Algarve's striking cliffside blue water, gold sand beaches and all the unforgettable moments on the dancefloor, fans and artists can now watch the official The BPM Festival: Portugal 2017 'Thank You' Video. Select live sets from the festival are also available for streaming on The BPM Festival's SoundCloud playlist and on BE-AT.TV.
For photos and information about The BPM Festival Portugal 2018 and more, stay connected on social media for upcoming news and announcements.
Phase 1 Artist Lineup
(in alphabetical order)
ALBUQUERQUE
ALEX KENNON
ANDREA OLIVA
ANIMAL & ME (LIVE)
ANNA TUR
APOLLONIA
ART DEPARTMENT
BEHROUZ
BILL PATRICK
BORIS WERNER
CALEB CALLOWAY
CARL CRAIG
CARLO LIO
CHUS & CEBALLOS
CONTI & LEO
CUARTERO
CUKY
DANNY SERRANO
DANNY TENAGLIA
DAVINA MOSS
DENNIS CRUZ
DJ VIBE
EGBERT (LIVE)
FER BR
FRANCISCO ALLENDES
FRANKY RIZARDO
GUSTA-VO
GUTI (LIVE)
HECTOR
JOEY DANIEL
JOSH WINK
JULIAN ALEXANDER
JULIAN JEWEIL
JULIEN LORETO
LAUREN LANE
LAUREN LO SUNG
LEE BURRIDGE
LEO POL (LIVE)
LEON
LOCO DICE
LUIGI MADONNA
MAR-T
MARCO CAROLA
MARK KNIGHT
MICHELANGELO
MISS SHEILA
MOLLY
NASTIA
NATHAN BARATO
NEVERDOGS
NICK CURLY
NICK MONACO
NICOLE MOUDABER
NITIN
NO REGULAR PLAY (LIVE)
OSCAR L
OXIA
PACO OSUNA
PILLOWTALK (LIVE)
POPOF
RAFA BARRIOS
RYAN CROSSON
SAMUEL DEEP
SECONDCITY
SERGE DEVANT
SETH TROXLER
SHAUN REEVES
STACEY PULLEN
STEFANO NOFERINI
TECHNASIA
THE MARTINEZ BROTHERS
THE MEKANISM
TOBI NEUMANN
wAFF
WILLIAM DJOKO
WOLF + LAMB
YAYA
Phase 2 Artist Lineup
(in alphabetical order)
ACID MONDAYS
ALAN FITZPATRICK
ALI
AMIR JAVASOUL
ANDRADE
ANDRE BULJAT
BARAC
BLANCAH
BORIS
CAIN
CALI LANAUZE
CALVIN CLARKE
CARLOS CHAPARRO
CHAD ANDREW
CHRIS LIEBING
CRUZ
D'JULZ
DA VID
DARIUS SYROSSIAN
DAVID BERRIE
DAVID GTRONIC
DAVIDE SQUILLACE
DJ DEP
DJ V
DUSTY CARTER
EMANUEL SATIE
GONCALO
HECTOR COUTO
HUGO BIANCO
II FACES
INGI VISIONS
JAMIE JONES
JAMIE LIE A KWIE
JAVIER CARBALLO
JEAN PIERRE
JESSE CALOSSO
JOEY DANIEL
JOHN ACQUAVIVA
KENNY GLASGOW
KINNERMAN
KYLE HALL
LEE CURTISS
LIL' LOUIS
LUCIANO
MAGAZINO
MAHER DANIEL
MAHONY MANDANA
MATT TOLFREY
MATTEO GATTI
MATTHIAS TANZMANN
MAX CHAPMAN
MR. G (LIVE)
NIC FANCIULLI
NICOLA BERNARDINI
NOUR
PAPA LU
PEGGY GOU
PETE ZORBA
PIRATE COPY
RANDALL M
RHOOWAX
RICHIE HAWTIN
RONY SEIKALY
SAMMY DEE
SEBASTIAN LEDHER
SKIZZO
THE LEGEND
UNER
VICTOR CALDERONE
History
The BPM Festival is an annual electronic music festival, founded in 2008 by Craig Pettigrew and Phillip Pulitano. For ten years, the celebration was held in Playa Del Carmen, Mexico in January over ten days and nights featuring over 400 underground house and techno artists and drawing an annual crowd of 70,000+ attendees.
In September 2017, The BPM Festival made its European debut in two beautiful coastal towns Portimao and Lagoa in the Algarve region of Portugal over four days and nights. BPM, which stands for 'Bartenders, Promoters, Musicians.' Initially conceived as a post-New Year's gathering of industry professionals, it has grown to a global collection of DJs, producers, revelers and industry professionals. The gathering is a must for any music lover with a taste for quality underground dance music.
As The BPM Festival moves into its 11th year, the festival is excited to bring their signature event YA'AH MUUL to Warung Beach Club Brazil in January 2018. They debut in the Middle East with a three-month residency at BASE Nightclub in Dubai, the United Arab Emirates starting in February 2018. In September 2018, The BPM Festival will once again return to Portugal's sunny Algarve coast. As the globally renowned festival expands to new regions, The BPM Festival continues to cater to discerning lovers of dance music from around the world.
Accolades
In 2013, The BPM Festival won 'International Festival' from the DJ Awards in Ibiza. In 2016, International Dance Music Awards nominated The BPM Festival for 'Best Music Event' for the third year in a row. Electronic Music Awards & Foundation nominated it 'Festival of the Year' in 2016. Also, The BPM Festival won 'Best Festival' in the EMPO Awards in 2015 with a nomination in 2016. In 2018, Iberian Festival Awards nominated it in three categories: Best Major Festival, Best New Festival, and Best Lineup.