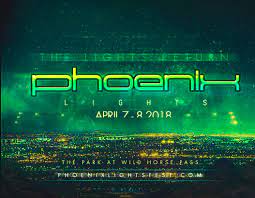 Phoenix Lights Festival 2018 Phase 2
Phoenix Lights Festival 2018 Phase 2
Phoenix Lights Festival 2018 is presented by Relentless Beats. It is Arizona's premier annual Electronic Music Festival spanning two days, April 7th and 8th. The festival takes place at Azul Park at Wild Horse Pass in Chandler, Arizona 85266.
2018 marks the festival's fourth appearance. It is open to all ages. However, those under eighteen years of age must be accompanied by an adult.
There will be NO RE-ENTRY for this event.
This festival is CASHLESS. You will be able to link a card to your wristband for purchases or top up with cash. The cost for replacement wristbands is $20.00 regardless of circumstances.
Gates open daily at noon and ends at midnight.
Ticket Information
As of January 26th, 2018, General Admission weekend passes for all ages are $159.00 with a fee of $31.10. VIP weekend passes for all ages are $239.00 with a fee of $43.10. VIP Platinum weekend passes for those over 21 years of age are $649.00 with a fee of $104.60. Individual day passes are available and range from $89.00 up to $399.00.
For further ticketing information, see the Ticketing Page.
#TheLightsReturn